Thrive in a Tribe
Economic Development, Small Towns, Multi-Partner Organizations, Entrepreneurship Training/Support
---

To turn the "should" of your community's rejuvenation into the "could" of action
The secret for transition or complete transformation is simpler than most of us think… "it doesn't take big grants, the perfect idea or years of planning to kick start change."
Using intrapreneurship, Monica illustrates what it takes to successfully launch an idea, a solution, or an economic activity and move it forward. 
Based on her PhD work and a proven track record in Saskatchewan (Gravelbourg: A Touch of Europe, Saskatoon: Ubuntu House) and in Alberta (Cactus Corridor: All Aboard, Brooks and Newell County: Welcoming and Inclusive Communities), Monica skillfully weaves her presentation strategies for collaborative partners and groups to focus on common goals and realistic action.
This is the perfect opportunity for your community or organization to find its INSPIRATION, its SPARK, its FUTURE!
See the Thrive in a Tribe video.
Share the Thrive in a Tribe flyer with your colleagues.
---
Three options for delivery:
TRAIN THE TRAINER A three-day PRACTICAL and INSPIRATIONAL workshop with real "take home" value and the road map for initiatives. Monica will mentor and coach your efforts towards the sustainability of your projects. "Thrive in a Tribe" is available as one of the

Dragon 9 Training

modules.
SCHOOL ENTREPRENEURSHIP DAY A superb follow-up to the Lemonade Game and

 

Junior Achievement: One day of action packed FUN and PRACTICAL application of intrapreneurship.
KEYNOTE ADDRESS

Enliven your economic development conference with practical content, music, and Monica's brand of humour.
---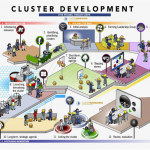 Thrive in a Tribe is based on the 12 Steps of Clustering
click on image to expand in a new tab
Want to know more about this concept?
Download Intrapreneurship Defined!
---
"Monica's unique approach to building communities and businesses through clustering brings a new approach to help with tourism and business building in our area. I always look forward to the next steps she brings us which allows us to get together, thrash out our ideas and bring the best ones to the forefront while we work though them at out own pace."
– Shelley Rymal, Owner, Sage Valley Marketing & A Belle of the Badlands
"Monica has been a great asset to have in Hanna. A visionary, enthusiastic, lively individual, Monica has a hands-on, action-orientated approach to her work. She definitely puts her money where her mouth is. If she says she'll do it, prepare to be blown out of the water!"
– Larae Pierson, Small Business Advisor, Rural Alberta Business Centre, Hanna Learning Centre
"Monica delivers a message for business people, entrepreneurs and students of business and entrepreneurship that is grounded in her extensive work experience as well as the current and historical literature in these areas. She knows her stuff – often in a way that no one else could imagine. But she delivers it in a way that is accessible to everyone."
– Cyril Kesten, Ph.D., Professor of Education, University of Regina